Lonely Burial Sites 121-157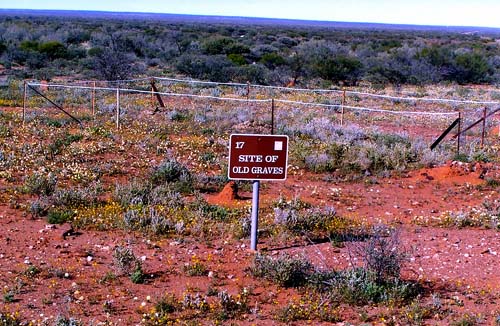 The development of the coastal regions and outback of Western Australia has seen people buried in many out of the way places. Some of those shown here are in unmarked graves and the people are also unknown.
Some of these lonely burial sites have had their stories told, others not, but each of the sites deserve recognition, as do the people interred there.
Lost Souls: Benvenuto, Bourke, Brunard, Byrne, Chapman, Cochran, Dale, Dilyan, Ewart, Gibbs, Giles, Glashen, Grainger, Hart, Higgins, Holmes, Howie, Issacs, Kenney, Marsh, Moir, Moore, McDonald, McIvor, McKenna, O'Donnell, Pascoe, Phillips, Pierce, Sutherland, Swan, Townsend, Walker, Wilson
Rest Places: Boddington, Poison Creek Cape Pasley, Rat Island Abrolhos Islands, Red Flag Hawks Nest, Rottnest Island, Round Swamp Tenterden, Roy's Retreat East Kimberley, Rudds Gully Greenough, Sandy Creek, Sheep Island Camden Sound, Speakmans Find Menzies, Stirling View Porongorup, Stokes Inlet Fanny Cove, Tardun, Top Camp Ashburton, Trans Australian Railway, Ullaring Rocks, Wattoning, West Lacepede Island, Williams, Wilson's Patch, Windjana Gorge West Kimberley, Wurarga Dam, Yalgoo, Yallingup, Yeriminup, 81 Mile Albany Highway
37 Images here - Last of the Lonely Burial Sites . . .