Small Cemeteries 1-40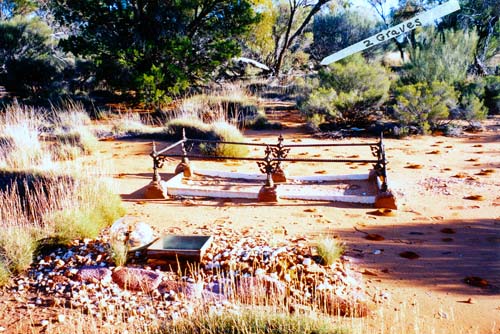 The development of Western Australia has seen many small cemeteries created as people explored and settled in this state.
Some graves have headstones and others are unmarked and in some cases there is only a list of people who have been buried there but care has been taken to remember the people who have come before us.
Lost Souls: Abbott, Allen, Anderson, Ashbury, Ashton, Ayre, Bell, Bendil, Benorni, Bensberge, Berteson, Berthfold, Bird, Black, Blair, Blumfield, Boerio, Bone, Box, Boyes, Brady, Buckley, Burges, Byrne, Cain, Calleghan, Capel, Carruthers, Cassidy, Clarke, Clough, Cloughley, Cocks, Colguhoun, Collin, Conen, Cook, Cornish, Crawford, Cusack, Cushion, Dance, Davern, Dellar, Deucker, Doherty, Don, Donovan, Downing, Duffan, Eggeling, Elliot, Erickson, Fanetti, Ficioli, Fitzgerald, Flynn, Fogarty, Follett, Fumes, Fortunato, Furness, Gherardin, Gideus, Goffliebson, Grant, Gresson, Grose, Guy, Hanley, Hanson, Harding, Harrison, Hartley, Harvey, Hattly, Hatton, Hawkins, Hedley, Herritt, Hevitt, Higgins, Hill, Hodgkinson, Hoffman, Hourie, Howells, Huggins, Hughes, Hunter, Ireland, Irvine, Iuschkat, Johnson, Jones, Kearn, Kearns, Kelleher, Kellett, Kelly, Kennedy, Kestel, Kramer, Kurth, Lamont, Langham, Lawrence, Lee, Leggett, Lewis, Lichberg, Lofters, Lug, Luminati, Luwen, Lyons, Mackenzie, Maeda, Malone, Mandeville, Manley, Mannion, Mansan, Martin, Matherson, Meehan, Meilke, Mill, Milligan, Molloy, Moore, Morgan, McAlson, McAtamney, McCabe, McCarthy, McCoukey, McDonnell, McGovern, McGuiness, McKeever, McKilley, McMahon, Netheratt, Newland, Newton, Nicholson, Nobili, Norris, Northey, Oates, O'Brian, O'Neil, Osune, O'Toole, Pabst, Parsons, Patience, Petersen, Pippett, Powell, Powles, Pratt, Prendegast, Pueder, Rasmussen, Renwick, Rhodes, Robertson, Rodda, Rowe, Rule, Ryan, Sameloweitz, Sarre, Sarsella, Sawyer, Schmidt, Seebeck, Simm, Siuialpafe, Smith, Snell, Soden, Spring, Stacker, Stephens, Stewart, Straughan, Stuart, Sudholz, Sullivan, Talor, Thomas, Thompson, Thorpe, Thorton, Travis, Turner, Vaudermet, Vipond, Vogele, Wadge, Wallace, Waloucy, Walters, Watson, Wauderup, Wilberforce, William, Williams, Williamson, Woods, Wright, Young
Rest Places: Arrio Cemetery Three Springs, Balbarrup Cemetery, Galgarrie Cemetery, Balin gup Cemetery, Balla Balla Cemetery, Bamboo Creek Cemetery, Bardoc Cemetery, Black Flag Cemetery, Black Range-Nungarra Cemetery, Bonshaw Cemetery Cranbrook, Bootenal Cemetery, Boraning-Marling Cemetery Williams, Broad Arrow Kurawah Cemetery Kalgoorlie, Bullfinch Cemetery, Butteraby Cemetery, Chowerup Cemetery, Condon Cemetery, Cookernup Cemetery, Corrigin Cemetery, Cowcow Cemetery, Cue Cemetery (unregistered), Cull Culli Cemetery, Cygnet Bay Cemetery, Darlot Cemetery, Davyhurst Cemetery
40 images here - More to Come . . .