Small Cemeteries 41-80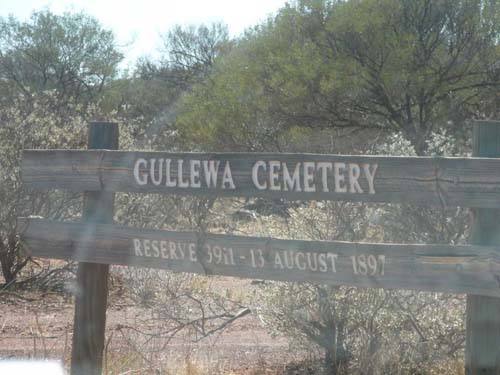 The development of Western Australia has seen many small cemeteries created as people explored and settled in this state.
Some graves have headstones and others are unmarked and in some cases there is only a list of people who have been buried there but care has been taken to remember the people who have come before us.
Lost Souls: Bailey, Berand, Billy, Brosnan, Brown, Covey, Cushion, Davis, Duke, Durlacher, Duthie, Essex, Foster, Halligan, Harrison, Hayes, Hogan, Jones, Killili, King, Kirkaldy, Martin, Payne, Quigley, Robinson, Schwan, Smith, Suerdieck, White, Woods
Rest Places: Derby Bungarun Leprosarium Cemetery, Diorite King Cemetery Kurrajong, Duketon Cemetery, Erlistoun Cemetery, Eticup Cemetery Broomehill, Eucla Cemetery, Fields Find Cemetery, Fitzroy Cemetery, Fremantle Skinner Street Cemetery, Freshwater Camp Cemetery Denham, Gabbin Cemetery, Gascoyne Junction Cemetery, Geraldine Cemetery, Geraldton Cemetery, Glentromie Cemetery, Goongarrie Cemetery, Grass Patch Cemetery, Gullewa Cemetery, Gwalla Cemetery Northampton, Halls Creek Cemetery, Harrismith Cemetery
40 Images here - More to Come . . .