Station Cemeteries 120-154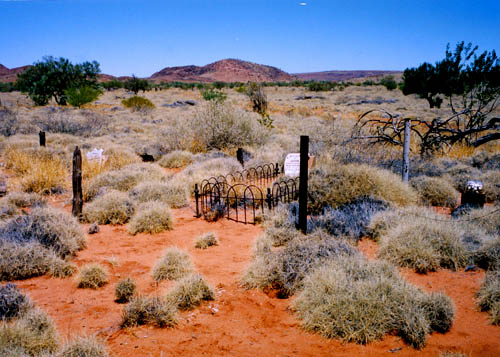 Throughout the development of Western Australia, outback cattle stations have provided a burial site for the pioneer owners and workers on the stations.
Some of these station cemeteries have seen better times.
Lost Souls: Ashton, Banhan, Bird, Boddington, Cameron, Clark, Cusack, Davies, De Pledge, Dudley, Durack, Feely, Fraser, Harding, Heron, Larking, Lefroy, Lucy, Maguire, McKenzie, North, Parsley, Perry, Rutter, Salkeld, Smithers, Smathwist, Stewart, Tracey, Underwood, Wallgreen, Watson, Williams, Woolhouse
Rest Places: Pago Pago Station Kimberley, Pardoo Station, Rockhole Station, Roy Hill Station, Ruby Plains Station, Rutters Soak, Siberia Station, Springvale Station, Strelley Station, Sturt Creek Station, Tamala Station, Tambray Station, Turee Creek Station, Turner River Station, Twin Peaks Station, Uaroo Station, Wanarra Station, Williambury Station, Wogoola Station (now Nyang), Woodara Cemetery on Melrose Station, Wooleen Station, Wyloo Station, Yakabindi Station, Yanrey Station, Yanyeareddy Station, Yarragadee Station Mingenew, Yarraloola Station Ashburton, Yinnetharra Station, Youanmi Station, Youin Station
34 Images here - Last of Station Cemeteries . . .