Welcome to LGWA
Details

Category: Welcome to LGWA
Hits: 2887
Lonely Graves of Western Australia
Brought to you courtesy of the Western Australian Genealogical Society Inc. (WAGS) and Yvonne & Kevin Coate.
The number of images currently showing on this website is: 2714
Yvonne and Kevin are the authors of "Lonely Graves of Western Australia and Burials at Sea", "More Lonely Graves of Western Australia", and "W.A. Locality Index". Yvonne and Kevin have provided WAGS with their images to be shared with you.
The images shown here have been collected over many years, primarily by Yvonne and Kevin Coate, long standing members of the Western Australian Genealogical Society Inc. (WAGS).
The image above right shows the grave site of Roy Lionel WALKER at "Roy's Retreat", Argyle, Kimberley, Western Australia (courtesy Barbara Walker)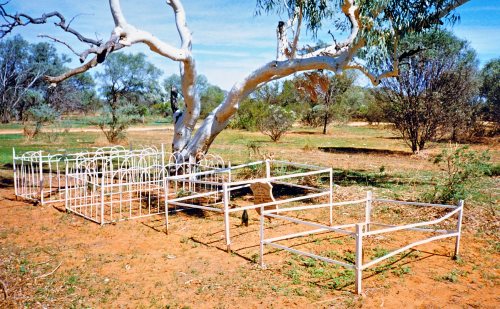 Burial sites at
Milly Milly Station
Kimberley, Western Australia
There are many others who have provided images to the Coates collection and they are acknowledged in the Contributors page as well as on the individual images.
There are some 1,500+ photos from the Coates collection on these pages, and are being uploaded to this site as time permits.
Images are shown in Alphabetic order - some samples images are shown below, others will be added as time permits, and as additional images come to hand. The sample images shown here are also in other pages.
Dale, St Johns of the wilderness
Church graveyard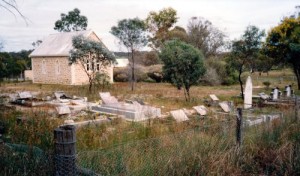 Please check back often as there are many images yet to be processed and added to this site.
If you have an image of a lonely grave, memorial, graveyard, mine, station or other remote burial site that is not already shown here, please email details to This email address is being protected from spambots. You need JavaScript enabled to view it., and we will respond as soon as possible.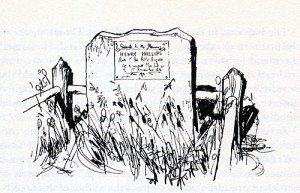 PHILLIPS, Henry
alias PIERCE, Henry Phillip
Buried Rottnest Island
Image ex Rottnest Ireland
Sketch Book by Paul Rigby
When providing an image for inclusion here, please provide as much information as possible about the grave site or burial place, including the latitude and longitude where known.
Please also include the date (month & year), and the name of the person who took the photo. Ideally images should be be in jpeg format but other formats will be accepted. All images will be reduced in size before being shown on this website.
We hope you enjoy the website ...
WAGS Lonely Graves Project team
You are here:  

Welcome to LGWA