Yvonne and Kevin Coate have been actively pursuing lonely graves throughout Western Australia since the early 1980's. Yvonne and Kevin have published 3 books; "Lonely Graves of Western Australia and Burials at Sea", "More Lonely Graves of Western Australia", and "W.A. Locality Index", as well as numerous articles and items in various journals and newspapers.
More Lonely Lonely Graves of Western Australia, by Yvonne & Kevin Coate,
Book cover image from water colour painting "Lonely Grave" by Ian Coate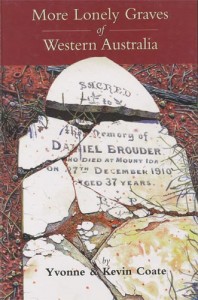 Images shown here have been collected over many years, primarily by Yvonne and Kevin Coate who are long time members of WAGS.
They have graciously donated their collection of images, and narrative documentation about their exploration of lonely graves, to the Western Australian Genealogical Society Inc. (WAGS).
Other contributors to the collection, either via the Coates' Collection or directly, are attributed in the photo descriptions, and also on the Contributors page The "Resting Posts" are pages of images, and other post titles.
Surnames shown on the burial sites and images are mentioned in the posts, and shown in the "Tags" for each post. Surnames are searchable via the "Soul Search" box on the right, or on the Lost Souls page. The results will give the post page that the surname appears in, but does not go directly to the image.
Resting Places are listed under the page on which they appear, as well as on the Resting Places page. They are also searchable in the "Soul Search" box on the right. "Resting Places" cloud (on the right) include the most mentioned burial sites. Clicking on an entry here will take you to the page or post where the entry is mentioned, it will not take you directly to the image.
Images are shown in Alphabetic order, others will be added as time permits and as additional images come to hand.
If you have images that you would like to share alongside those that have been donated here, please send your details, and the images to This email address is being protected from spambots. You need JavaScript enabled to view it., and we will respond as soon as possible. Attribution will be shown in the image narrative.
When providing an image for inclusion here, please provide as much information as possible about the grave site or burial place, including the latitude and longitude where known. Please also include the date (month & year), and the name of the person who took the photo.
Ideally images should be in jpeg format. Other formats will be accepted, but will be reduced in size to apx 500px before being shown on this website.
---
Acknowledgement to WAGS members and volunteers:
Images have primarily been supplied by Yvonne and Kevin Coate from their collection
Acknowledgement to other image providers is on the Contributors page, and on each image (where known)
Images showing on this website are being prepared for publication by Karen and Michael Thompson and Chris Loudon.
GIS and location data in the map is the work of John Blackburn
The site is updated and maintained by Chris Loudon and Karen Thompson