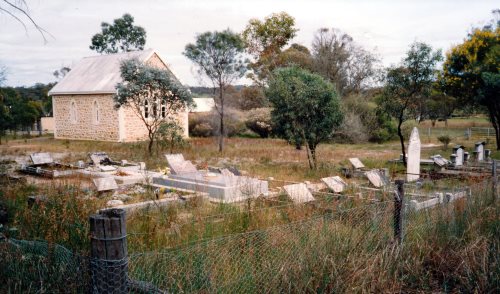 Churchyard Graves 1-40
There are many out of the way or forgotten church graveyards and church memorials around the state of Western Australia, not all of them would be considered as lonely graveyards, but many are.
Images collected over the years include the following Churches and other burial places and memorials:
Lost Souls: Ayrton, Barlot, Baron, Benedict, Bouchet, Boussin, Breen, Esandi, Fairbridge, Gale, Gil, Gillin, Grosiacques, Harrington, Jackson, Keaney, Lamb, McGinness, Markey, O'Connor, O'Grady, O'Mara, Park, Peel, Saw, Snow, Sylvester, Taylor, Thompson, Veronica
Resting Places: Armadale Congregational Churchyard, Arthur River St Paul's Churchyard, Beverley St Paul's Anglican Churchyard, Bindoon Keaney College, Bootenal St John's Churchyard, Busselton St Mary's Churchyard, Dale St John's of the wilderness, Dongara Priory Lodge Cemetery, Fairbridge Farm and Chapel, Ferguson Valley St Aiden's churchyard, Forrest River Mission Kimberley, Gilgering St Peters Churchyard, Glendalough Convent of the Good Shepherd, Kalumburu, Kimberley Area Church, Mandurah Old Churchyard, Maradong Churchyard, Middle Swan St Mary's, Mourambine Churchyard, Parkerville Children's Home, Perth Mercedes College, Picton St Mark's Churchyard, Pinjarra St John's Churchyard
40 images - Last of the Church Graves . . .