Station Cemeteries 80-119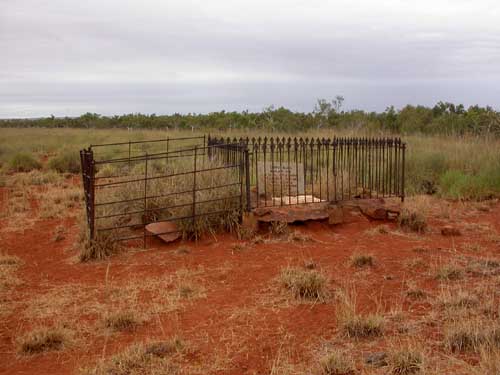 Throughout the development of Western Australia, outback cattle stations have provided a burial site for the pioneer owners and workers on the stations.
Some of these station cemeteries have seen better times.
Lost Souls: Broad, Carnaby, Colbert, Collins, Cook, Coppin, Dale, Davis, Farmer, Fawcett, Fisher, Forrest, Gilba, Hamersley, Hardy, Harris, Holthouse, Hope, Horsefield, Jasper, Johnson, Kennedy, Kifen-Petersen, Lacey, Learmonth, Lee, Lindley, Madden, Martin, May, Mike, McCauley, McGill, McTavish, Ningham, Oakley, O'Brien, Ogilvie, O'Sullivan, Pite, Potts, Richardson, Seabrook, Shadforth, Stewart, Waldeck, Wilson
Rest Places: Millie Soak Nallan Station, Milly Milly Station, Mindaroo Station, Mt Dockrell Looma Station, Mt Elizabeth Station, Mt Farmer Station, Mt Florence Station, Mt House Station, Mt Jackson Station, Mt Murchison Station, Mt Phillip Station, Mt Sandiman Station, Mt Vernon Station, Muccan Station, Mulyie Station, Mundrabilla Station, Munarra Station, Murchisoun House Station, Nanutarra Station, Nicholson Station, Ningham Station, Noondoona Station, Nyang Station Ashburton, Old Billiluna Station, Ord River Station, Oscar Range Station
40 Images here - More to come . . .